Woking Young Musicians Trust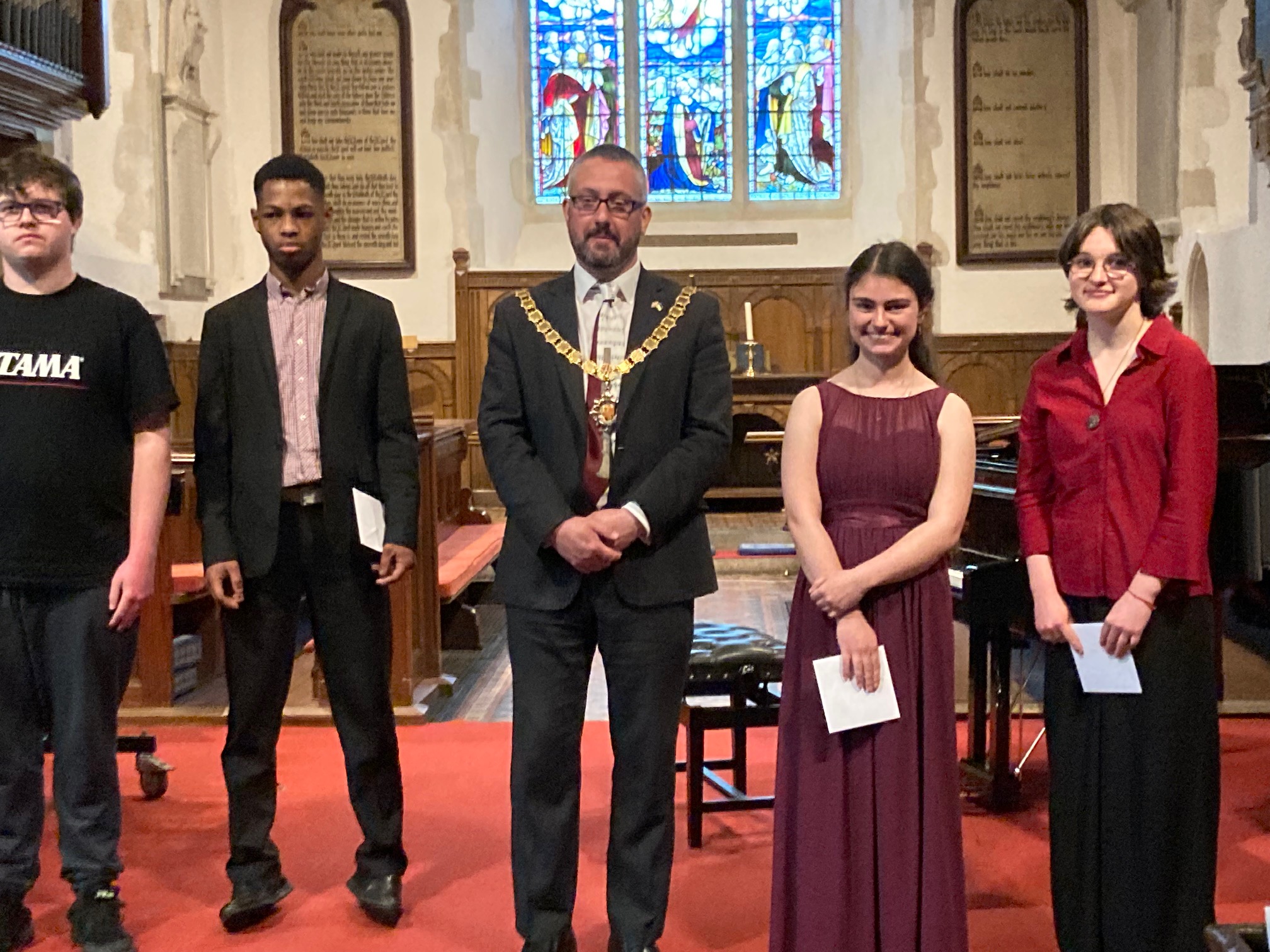 Anthony Harris, Chiwitara Okonya, Cllr. Liam Lyons, Stephanjia Nikolich, Nona Lawrence
Woking Young Musicians'  Trust  May 15th 2022
By three o'clock on Sunday May 15th, all our prize winners had had a turn at warming up in the beautiful church of St Peter's in Old Woking. Although there was a comfortable sized audience, we were disappointed that many who had been invited had not replied.  We made the mistake of assuming they would arrive, but were disappointed. Nonetheless, we did achieve what we set out to do and that was to provide a platform and audience for our worthy and talented prize winners for 2022 prize.
Thanks to  enormously generous benefactors such as Mahala and Alan Gosling, Ruth Felton and The Woking Pianothon run eah year by Pam Lunn, we have the ability to give transformative awards to worthy candidates .
First on at this concert was Anthony Harris. His enthusiasm for the marimba began when he was only 7 years.  He was virtually self taught until relatively recently.  He gave a hugely impressive performance and all from memory.
Our second winner was Chiwitara Okonya.  He gave us an unexpected opportunity to help an unusual  young man. He has a photographic memory and perfect pitch.  He is, however hampered by autism. Music gives him a way in which to express himself .  He is currently learning the basic elements of music theory which is quite a tough process for him as he can sit at the piano and play almost anything he hears and sees within seconds, no music required!.  He gave a very humorous performance of.  "The clog dance" which made us all smile" .
Our next performer was a very talented young player who had a problem deciding which of her two instruments she considered her first study.  Nona Lawrence showed herself to be a very able and very imaginative and sensitive musicians.  She had elected to play her Tuba and made a wonderful and engaging job of it too.
Our final performer was Stephanjia Nikolich who had already been nominated as Woking's Young Musician of the year. She gave an electrifying performance of three sections of  Debussy's Twelve Studies. Debussy described then as a warning to would- be professional musicians not to take up the profession unless they had remarkable hands. Stephanjia has remarkable hands!!
After a really delightful and most enjoyable "Salon Recital", we all moved across to the Church centre to enjoy a delicious tea prepared by Quaich of East Horsley.  It was a. thoroughly enjoyable event. As trustees, we were delighted to have given a little help to  a really talented if disperate group of young talents.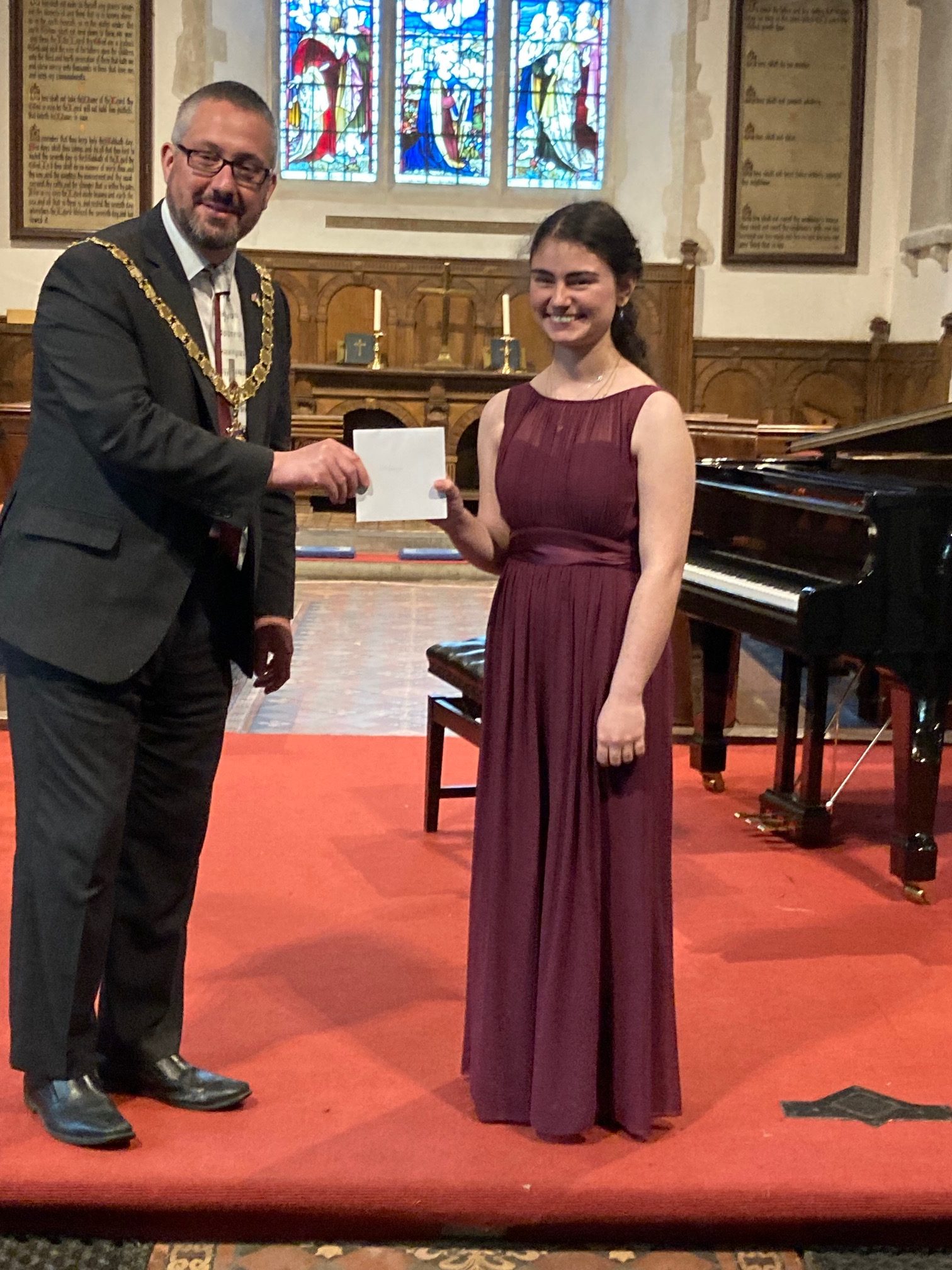 Cllr. Liam Lyons and Stephanjia Nikolich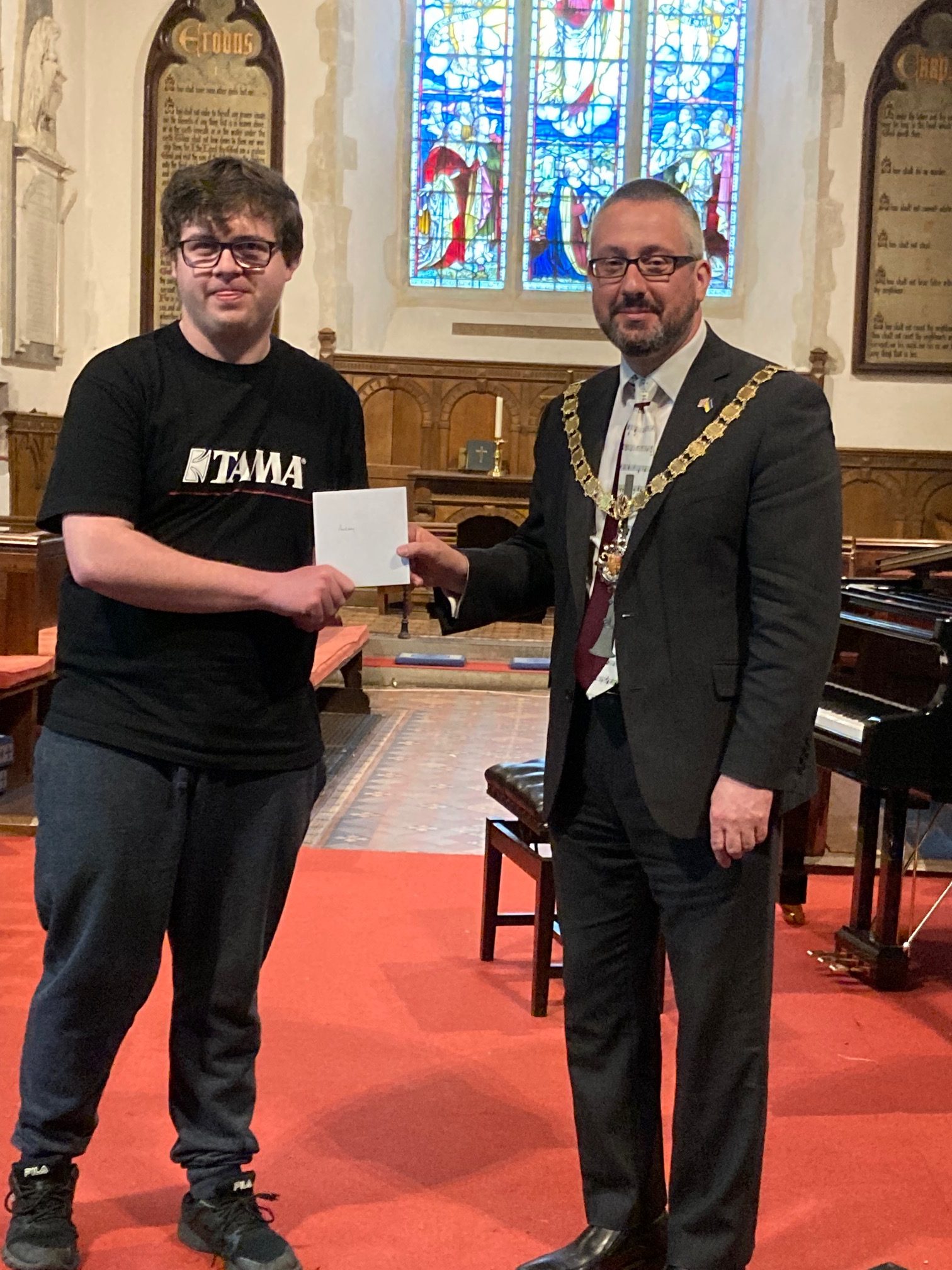 Anthony Harris and Cllr. Liam Lyons