Woking Young Musicians Trust
Woking Young Musicians Trust is the most recent incarnation of a fund first set up in 1979 as the E. Marie Oswald Trust with the object of "the fostering of young musicians in the Woking area."
Born in Alsager, Cheshire on 10th March 1888, Eveline Marie Oswald appears in the 1911 Census as a "Teacher of Music", living with three of her six sisters and one of her two brothers in Clapham. By 1931 she was living at 81 York Road, Woking, moving with two of her sisters in 1953 to Cavenham, Brooklyn Road, where she continued to teach music privately.
When Woking County Secondary (later Grammar) School for Girls opened at its Park Road site in 1923, it boasted five full-time staff, and Marie Oswald became its first Head of Music. Housed in a collection of war-time army huts, facilities were somewhat basic. However Marie Oswald founded the school orchestra and is recorded as scouring the local area to provide orchestral instruments, notably a cello for £8 and a double bass for £6.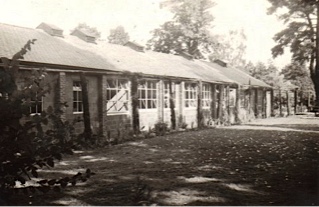 The school magazine reviews a number of Gilbert & Sullivan performances, such as The Gondoliers, Iolanthe and Patience, "produced by Miss Oswald and Miss Hose." The D'Oyly Carte Opera Company in those days refused to hire out orchestral parts, so Miss Oswald would sit in the Savoy Theatre with her piano score and pencil in the orchestration. These operettas and school concerts were performed in alternate years during the 1930s.
Although sited close to the main railway line, the school remained in Woking during the war, and Miss Oswald is remembered for "keeping us in constant fits of laughter in the Air Raid Shelter, so that we forgot the planes overhead." A staff Christmas Concert in 1943 was noted for the entrance of a procession in gowns and hoods, led by Miss Oswald holding aloft a Boar's Head on a dish, accompanied by the "Boar's Head Carol."
Marie Oswald's retirement from the school in July 1945 was marked by a school concert, after which she was presented with gifts of flowers from the girls' gardens. "Everyone who has been taught by her will remember with delight her ebullient wit and humour."
Marie Oswald continued tirelessly in Woking's musical life, founding the Woodham Ladies' Choir and serving as President of both the Woking Music Club and the Woking Music Festival.

Besides her work at the school Miss Oswald also taught privately in Woking, numbering among her pupils the pianist Simon Nicholls and singers Carole Rosen and Robert Bateman.
So it was that, following her death in 1977, her former pupils together with members of the Woking Music Club and Woking Music Festival were determined to set up a fund in her memory to support promising young musicians from the area, particularly those from less well-off families, with grants or loans towards specific musical projects.
An initial money-raising concert was held in June 1979, conducted by Richard Hickox, and by the end of 1981 the Marie Oswald Memorial Fund had been granted charitable status. The first auditions were held in May 1982 and an award was made to pianist David Preece. Auditions thereafter were held annually, and several award recipients have since gone on to make music their career.
At first grants were small since finances were limited, but a substantial donation from the John Lewis Partnership in 1994 doubled the size of the Fund. This happened again four years later thanks to a legacy on the death of former Memorial Fund Chairman Harry Minney.
However major change came at the instigation of Cllr. Mehala Gosling who selected the Memorial Fund to be the Mayor of Woking's Charity. With the agreement of the Charity Commissioners the Fund's title was changed to Woking Young Musicians Trust [formerly the Marie Oswald Memorial Fund]. Between 2002 and 2003 during Cllr. Gosling's mayoralty some £25,000 was raised for the Trust, putting it on a much firmer financial footing and allowing greater scope for awards.
In recent years the major fund-raiser for the Trust has been the Woking Pianothon, founded in 2003 by Pat Page and Sue Hamilton. This event, held in the centre of Woking each March, features many local young musicians and generously donates half of its takings to the Trust.
Woking Young Musicians Trust is very grateful to Anne Bowey and to Shirley Parker for their extensive help in research and provision of photographs of Marie Oswald and Woking County Grammar School for Girls. Thanks also to David Boorman for access to his researches into the Oswald family, providing corrections for this article.